One World, Many Stories
Resources for Your Library Reading Program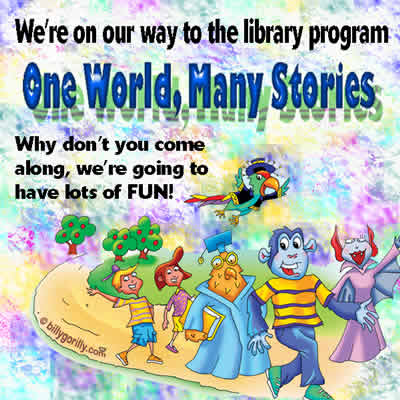 We have more Library Resources and Theme Songs Here
Librarians, Teachers, and Parents
We Want to Help You Promote Summer Reading
We invite you to download and use Billy Gorilly's "One World, Many Stories " song for free.
This includes librarians, teachers, daycares, schools, churches, camps, clubs, grandparents, moms, nannies, children, and, yes, even dads!
Please don't sell this song or include any of it for sale as part of a larger package... it's intended to be free for everyone to use. The song is 55 seconds long making it perfect to add to your website, blog, video, radio promo, or anything else you can think of. You may also link to this page. If you use the song all we ask is that you give Billy Gorilly credit.
If you would like to purchase the album version of "One World, Many Stories " you can find it on
the Aesop's Fables For Today's Kids audio CD here.
Do You Need Postage, Stickers, or Tote Bags?
Custom postage stamps, t-shirts, stickers, book bags and more.
View all Billy Gorilly library reading program items at Billy Gorilly's Zazzle store here
One World Many Stories video
We Have Some Free Printables For You
Take a Look At Our Other
Library Songs and Resources Here
Get the Album Version of One World, Many Stories song on the Aesop's Fables For Today's Kids audio CD
Connect With Us
Billy Gorilly and the Crew Wishes Everyone a Very Successful Reading Program!