Spring Activities

Let's have some FUN working on Springtime activities.
Listen to a Song about Flowers
Working on a flower, gardening, or nature theme? Have the kids listen to Betty Bat, the dramatic diva sing the song "FLOWERS" as they work on coloring, cutting, pasting, cooking, and learning.
Listen to Betty Bat sing the song Flowers





Buy "Flowers" song on
Amazon
Listen on
Pandora, Spotify, and Apple Music


Coloring and Activity Page Directory



Click on the links below to view other activity collections by theme
Download and Print Coloring Pages



Click on the images or links to print these free coloring pages now.
Let's Make a
Teeny Tiny Flower Arrangement


This Craft is Perfect for Mother's Day
Materials
• 1 ½ - 2 in. clay pot for each child.
• Homemade play dough tinted green with food coloring. Use enough to fill each pot to the top. Best to make play dough prior to craft.
• Silk flowers with a stem. We used small bunches of 12 found in the wedding section of the craft store. We chose flowers that had 3 flowers, some berries, and leaves on each stem.
• Paint to decorate pots (optional)
Directions
• Paint or decorate as desired. Leave plain or make very fancy it's up to you.
• Put play dough into the pot up to the rim.
• Give each child 3 flower stems. Fold the wire stem to make it the right depth for your pot. Stick flowers into the play dough to hold in place. The dough will harden in a day or two.
Ladybug Apple Snacks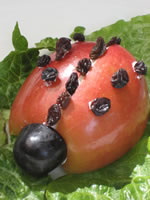 This Simple Recipe is Tasty and Cute!
Ingredients:
1-small red apple
2tsp.- strawberry cream cheese (low-fat)
1/8 cup- raisins or dried cranberries
1 or 2-red or black seedless grapes
(Optional) lettuce leaves for garnish if desired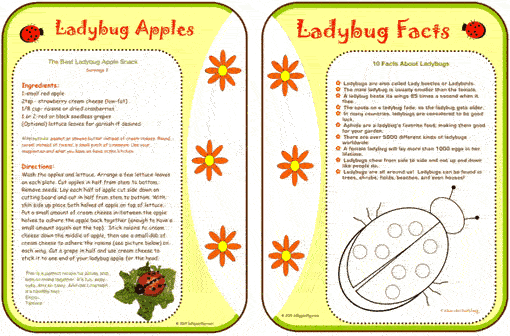 Billy Gorilly Puts the Fun Back in the Fundamentals
Rockin' the SchoolHouse


Songs, Stories, and Printables

Early Learners from all backgrounds will Sing, Laugh, and Learn their way to a bright future.
Learn More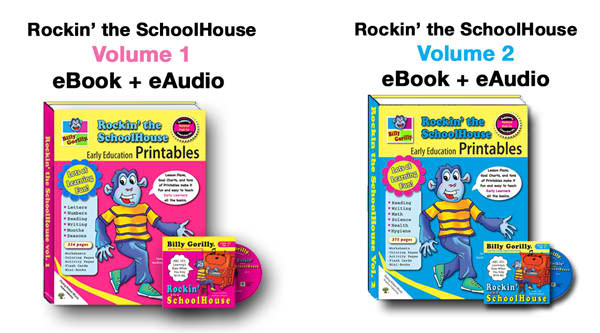 [Click Here]
to learn more about the Rockin' The SchoolHouse audio and Printables


If you want your kids to learn the basics they'll need to succeed in school and beyond, then Billy Gorilly is your new best friend. Whether you're an innovative teacher, dedicated librarian, or involved parent, it's easy peezy to put Billy's award winning educational songs, stories, and printables to use at home or in the classroom.
Listen to song samples from Rockin' the SchoolHouse, Vol. 1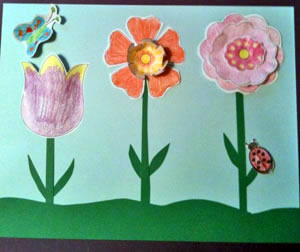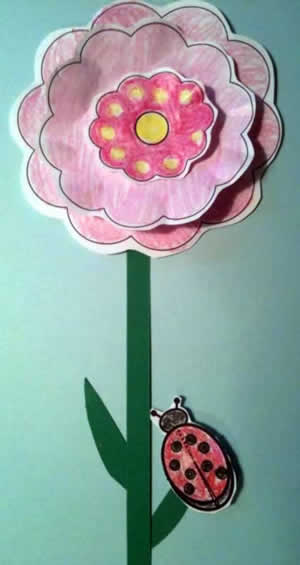 3-D Flower Art
Print • Color • Cut • Paste
Download and Print the Template
and Instructions click here
Check out our other Free Goodies

puzzles & activities, kid friendly recipes, Library songs, or podcast
Copyright rules apply to artwork, audio, and images. Written permission is required before
using any of this material for commercial use or on any website, blog, or print media.
The materials can be printed and used for personal non-commercial use.
You may link to this page without permission, but it's always nice to get a little note Contact Us
Connect With Us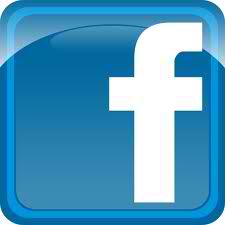 Like or Tweet This Page
Buy mp3 downloads

Listen to Samples

Safe - Secure - Easy
Aesop's Fables for Today's Kids


Rockin' the SchoolHouse, Vol. 1
Rockin' the SchoolHouse, Vol. 2
Billy Gorilly and the
Candy Appletree Family
Happy Birthday Gertie
Ac-Cent-Tchu-Ate the Positive (single)
Jingle Bells (single)